Popular searches:Embossing Machine UV Embossing Machine Plating Machine Demetalized Window Washing Machine
---
Sanjian Packing Machinery
SANJIAN PACKING MACHINERY
Global leader in hologram equipment
---
UV模压机
---
World's biggest hologram embossers manufacturer with annual output of around 100 units;China's No. 1 hologram embossers supplier, with >70% market share, and over 700 units in operation;
Proprietary seamless embossing technology.
工作速度:30-70 m/min 机械速度:90 m/min PET膜宽:300-1200 mm (max 1200mm) PET膜厚度:12-75 micron 收放卷直径:700 mm 3寸收放卷芯:76.4 mm(3 inches) or 6 inches 机器尺寸:8000-12000 x 3000 x 3000 mm
Coating machine | laser equipment

---
After strict control and inspection, the existing products have successively obtained national patents, are deeply trusted by customers, and have been recognized and used by many world famous enterprises at home and abroad.
Since its establishment, Sanjian Company has made continuous efforts to innovate and expand the market. So far, it has a considerable scale. At present, it has nearly 10000 square meters of standard factory buildings, a large machining center, a large number of automatic lathes, milling machines, grinders, drilling machines and a series of equipment. The most important thing is to have a strong and professional production technology team, so that we can provide customers with high-quality products and excellent services.
Sanjian has always taken honesty and trustworthiness as its corporate culture, and making customers satisfied as the purpose of enterprise development. With constant innovation, the society is making progress, and we are also making progress, we will bring customers the most satisfied products, the most intimate services, and work together to create a better future.


工作速度:30-70 m/min
机械速度:90 m/min
PET膜宽:300-1200 mm (max 1200mm)
PET膜厚度:12-75 micron
收放卷直径:700 mm
3寸收放卷芯:76.4 mm(3 inches) or 6 inches
机器尺寸:8000-12000 x 3000 x 3000 mm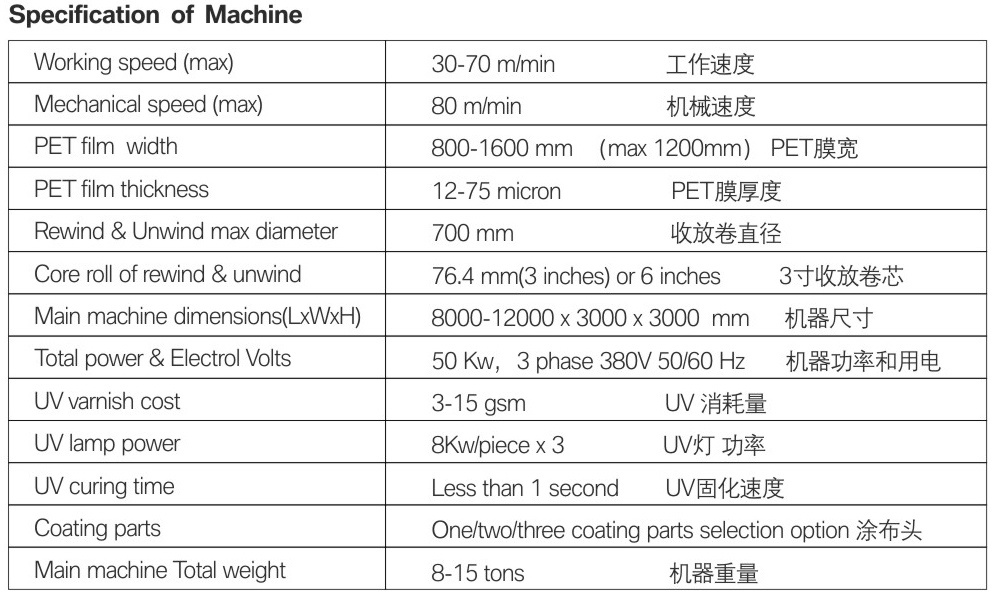 Get product quotes for free